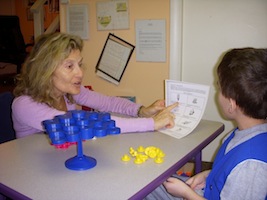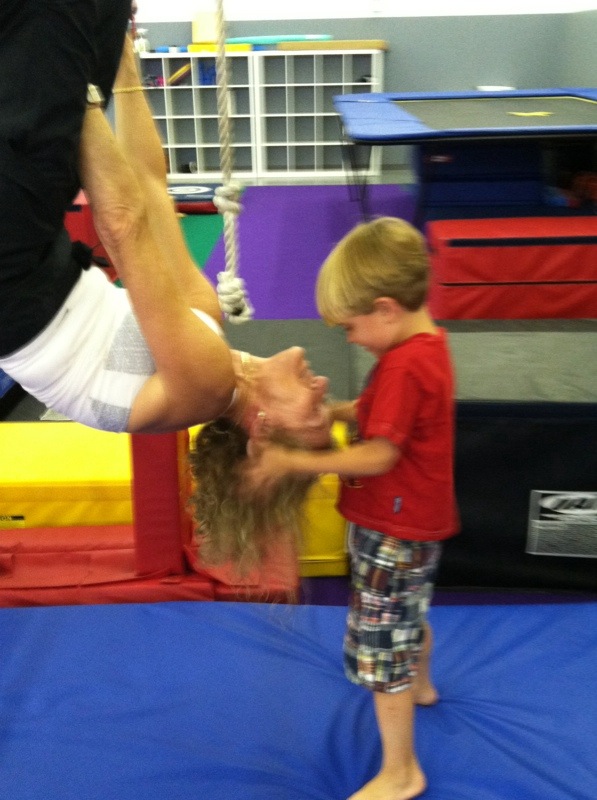 "I cannot speak highly enough about the merits of the ABLC. My son has been using it since last June. (He became ineligible for services via our county's early intervention program when he turned 3, so that's when I decided to put in place the whole DIR/FT model, including the ABLC.) I attended Diane Lewis' workshop last April, and it was superb: the video examples of how she uses ABLC are invaluable. And, she shows you the progress that students make over time (before/after video clips). When I saw how much progress children could make, I was very encouraged and dropped my plans to use the Verbal Behaviour approach. I can tell you that we've seen the kind of results that Diane talks about in her class: my son made two years of developmental progress in less than 12 months, with only 1 hour of weekly speech therapy and at-home supplemental work.
What I find to be very encouraging about the ABLC (and FT) is that even imperfect implementation yields positive results. I am still challenged to spend the recommended amount of time with my son doing FT and the ABLC, but I am very pleased with how verbal and engaged he is becoming. And I know that as I grow in my ability to do ABLC/FT, then he'll reap even greater benefits. But even when I have "unproductive" days, when I'm not spending as much time with him as I should, I know that this approach is still working and that the less-than-optimal amount of time that I am giving him is still making a big impact.
The crucial factor is the high affect: without a speech therapist that truly employs high affect and knows how to incorporate the sensory component into his/her work, you will be wasting your son's time. (Another reason why Diane's workshop is so valuable is that get to see her in action: high affect at its very best.) My son's speech therapist (who works in Diane's practice) is so good at using high affect that I actually learn how to improve my own ability to employ this during FT/ABLC by watching her. She also follows the curriculum to a 'T' and is extremely well versed in the ABLC: a therapist who has only recently attended Diane's workshop as an initial introduction to the ABLC is not necessarily going to be equipped to implement it if the DIR/FT/ABLC approach of harnessing affect to effect learning is a totally new concept.
The other great thing about the ABLC is that it really identifies the types of things that a child needs to learn at each development stage from 0-4 years in a way that is very insightful. (Before my son's diagnosis, I was looking for a 0-4 homeschooling curriculum: that's essentially what this is, and it's valuable to use with all children, both on and off the spectrum.) You can buy her book and complete the checklists yourself to figure out where your child is. However, doing it as a part of the workshop is much more helpful because you get to see how Diane has completed the checklists for children that she uses as case studies, you can see how they progress over time in the video clips.
I can't recommend the workshop highly enough. It's a great networking opportunity for parents: you will make valuable connections. My one cautionary note is that Diane pours herself into what she does for her kids (and into her high-energy presentation delivery). Moms (including me) are usually so impressed that they inundate her with requests to get on her schedule fo revaluations for their children during every break of the workshop schedule which I am sure must be exhausting for her. My suggestion is that you make an appointment to see Diane with your child before you go on a regular basis, you would get a thorough, accurate assessment of your child's challenges and start off your home program with better preparation. Then, you can be more relaxed and focused during the workshop and you'll know that you have a later opportunity to ask her any questions that you don't get answers to during this workshop."
We came away with a wealth of information, and are in the process of implementing so much. You will be happy to know that our son is now playing the toy saxophone, whereas he was only able to play the flute while he was there. The difference between different designs is no longer a problem. We also have him verbalizing much. Not perfect, but he is truly trying. And, for the 1st time in his life, he said his name once. It took about a hundred tries, but he said "mackal," which is the way his older sister first said his name when her speech was developing. Very interesting. Thanks again, and take good care.
A friend forwarded me your note below. Sage advice as always. Also re: your comment re: ABLC, just wanted you to know that we view ABLC not as 'having helped' get language, but instead as 'that which made the single biggest difference' in enabling our son to speak. You are a godsend to us, and just wanted to make sure you knew!
Posted By: A Father